Myofascial trigger points : What are they?
Myofascial triggers points: What are they ?
by: Hans de Wit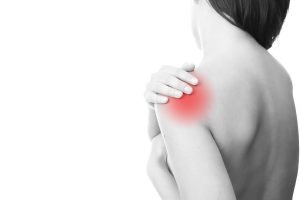 Did you know that the Skeletal muscle structure (also called voluntary muscles) is the largest single organ of the human body and can weight 40% and more of our total body weight ? All this muscle mass can be divided into an astounding number of  696 individual muscles, that are made up by millions of fibres , nerves and blood vessels.
Today I hope to shed some light on why this complex network of soft tissues is playing a much larger role in your health than you might think. And also why its is so often overlooked by medical specialists who prefer looking at bones, joints , bursae and nerves for diagnosis and treatment.
Our muscles are extremely subject to the winding and grinding of our daily activities and even more so to our daily lack of activities.  This causes trigger points in the fibers that can be classified into Active trigger points and latent trigger points.
They form as a local contraction in a small number of muscle fibers in a larger muscle or muscle bundle. The integrated hypothesis theory states that trigger points form from excessive release of acetylcholine which produces sustained depolarization of muscle fibers.
Unrecognized myofascial headaches, shoulder pain and low back pain that have become chronic are a major cause of lost time in the workplace and absenteeism in employees. Research has pointed out that chronic pain costs the american economy billions of dollars each year, and South Africa will be no different.
Some of the main causes of trigger points and pain are acute overload of muscles, overworking of muscles, chilling of the muscle fibers and traumatic events. Often times different diseases can cause soft tissue pain as well, with the heart, gallbladder and other visceral diseases being the major contributors. Emotional stress however , can play an even greater roll, causing the highest number of patients with muscle pain.
Trigger point are renowned for their ability to generate referred pain throughout your body. You might have a devastating headache on your temporal region of your skull , however the cause of your headache will be found down in your neck. This phenomenon can become very complex with different layers of muscle pain and stiffness surrounding a specific joint or vertebral body.
This is why different phases of rehabilitation is necessary. Stretch therapy will slowly remove all muscle stiffness and lack of range of motion. With this the outer and inner layers can be gently entered and trigger point therapy can be applied, putting pressure on very precise points in your body.
The therapist can also apply a stretch and spray technique. This technique involves an agent called vapocoolant, research has indicated that the use of a active coolant on the skin in combination with a stretch can inactivate trigger points very effectively.
Don't hesitate to contact us to find a therapist near you www.stretchingsa.co.za